Products
C++ XML Data Binding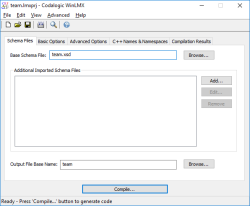 Our flagship product is Codalogic LMX, an XML to C++ data binding tool permitting easy interfacing of XML data into C++ code.
You specify the structure of your XML data using an example XML file or a W3C XML Schema and the Codalogic LMX program will generate application specific C++ code that will read XML data into C++ objects and write the contents of C++ objects to XML.
This approach speeds up code development and also gives you a well documented data structure specification.
C++ source code for the runtime library that is used by the generated C++ code is available so that the code can be run on any standards compliant C++ compiler, including Windows, Linux, OSX, HP and IBM.
Contact
The easiest way to contact us is via e-mail. For general enquiries, please contact us at: . For sales enquires, please contact us at: .

We are based in the UK. Our address is:
Codalogic Ltd
P.O. Box 30
Kesgrave
Ipswich
Suffolk
IP5 2WY
United Kingdom

Tel: +44 1473 635863


Company Number: 3752497
VAT Number: GB 881 4378 96
Blog
Visit our blog to learn more about us, LMX and software in general.