Codalogic is a privately funded company developing niche software solutions.

Typically we create products that are too specialised for large companies to develop, but which are not practical for programmers to implement in-house. Our current focus is automating code creation, particularly in the XML space and test support.

We have extensive expertise in C++, XML and networking, plus supporting skills in technologies such as Perl and web programming.
Products
C++ XML Data Binding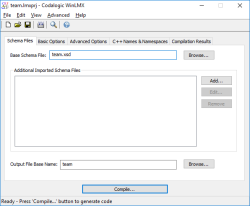 Our flagship product is Codalogic LMX, an XML to C++ data binding tool permitting easy interfacing of XML data into C++ code.
You specify the structure of your XML data using an example XML file or a W3C XML Schema and the Codalogic LMX program will generate application specific C++ code that will read XML data into C++ objects and write the contents of C++ objects to XML.
This approach speeds up code development and also gives you a well documented data structure specification.
C++ source code for the runtime library that is used by the generated C++ code is available so that the code can be run on any standards compliant C++ compiler, including Windows, Linux, OSX, HP and IBM.
Code Scrapbook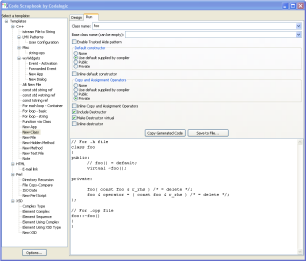 Codalogic Code Scrapbook is a free experimental application exploring how programmer productivity can be improved by using a repository of frequently used fragments of code that can be customized and pasted into software.
Code fragments are generated from user configurable templates that specify the set of data that is to be collected from the user, and how that data is to be used and formatted.
Code Scrapbook can be used to store templates for new files, including license boilerplate, include guards and common include files. It can also make adding new classes easier.
Difficult to remember code fragments can also be included in your personal code scrapbook.
Domain Specific Language Parsing Assistant
dsl-pa is an open source C++ Domain Specific Language Parsing Assistant library designed to take advantage of the C++ logic shortcut operators such as && and ||.
It can be used to easily parse a BNF or PEG specified grammar using C++.
XML Format Specification
Annotated XML Example, or AXE for short, is a simple way of specifying the structure of XML documents. In it's most simple form it is an instance of the XML document you want to parse. For more complex documents you can add annotations to the initial XML example document to better specify the XML that you want to parse.
AXE can be used to specify the format of your XML data when generating C++ code using Codalogic LMX.
Contact
The easiest way to contact us is via e-mail. For general enquiries, please contact us at: . For sales enquires, please contact us at: .

We are based in the UK. Our address is:
Codalogic Ltd
P.O. Box 30
Kesgrave
Ipswich
Suffolk
IP5 2WY
United Kingdom

Tel: +44 1473 635863